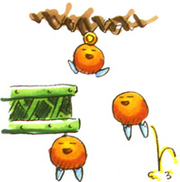 Hangman is a round, hanging creature found commonly in stages. One of Headdy's three friends, he is used to grapple and jump to higher platforms. Occasionally, whenever you pull on Hangman, he drops down with platforms. For reasons or another, there are multiple Hangmans.
Appearance
Edit
There isn't much to this little guy's appearance. He is at least half of Headdy's height - Which is quite small! Colored orange, with tiny blueish feet. There are multiples of him all over the place, which gives you the oppertunity to see multiples of his smiling face.
His name may come from the game "Hangman," which involves guessing letters in a word. The more that are incorrect, the more one draws a hanging man; Hence, the name of the game.
Ad blocker interference detected!
Wikia is a free-to-use site that makes money from advertising. We have a modified experience for viewers using ad blockers

Wikia is not accessible if you've made further modifications. Remove the custom ad blocker rule(s) and the page will load as expected.