The
Heavy Head
is one of Headdy's eighteen H
eads
in the game, though not one of the most beneficial. It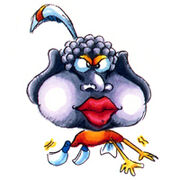 turns Headdy's head into a comically oversized metal squash with giant, cherry red lips, comepletely outweighing him ( despite the lack of neck ) and forcing him to crawl.
Abilities?
Edit
The Heavy Head is so weighty, that with it, Headdy is unable to run anymore, jump or attack. He moves by crawling ridiculously slow. If our hero happens to stumble upon this head by accident during a major battle, there's a chance he may take no victory. It is also non-cancellable.
Ad blocker interference detected!
Wikia is a free-to-use site that makes money from advertising. We have a modified experience for viewers using ad blockers

Wikia is not accessible if you've made further modifications. Remove the custom ad blocker rule(s) and the page will load as expected.