The
Spike Head
is one of Headdy's eighteen
Heads
in the game. It gives him a dark purple, urchin-like head,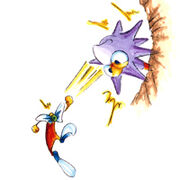 instead of his regular one.
Attributes
Edit
The Spike Head's ability allows Headdy to grapple onto walls and climb up them, much like when shooting at a Hangman. This isn't limited to just walls; The same tends to apply to any clingable surface!