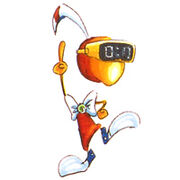 "VR head" could see everything into real life and looks ugly." -Instruction Manual
The Ticker Head is one of Headdy's many heads .It replaces Headdy's eyes with digital clock, displaying "0:0".
Attributes
Edit
Once Headdy acquires this head, all time is stopped for several seconds, allowing you to attack enemies without giving them a chance to counter (However, direct contact with enemies will still hurt Headdy).
Ad blocker interference detected!
Wikia is a free-to-use site that makes money from advertising. We have a modified experience for viewers using ad blockers

Wikia is not accessible if you've made further modifications. Remove the custom ad blocker rule(s) and the page will load as expected.